At the beginning of 2023 we released a new map on which we were working on along with new locations, NPCs and first quests. So if you're curious about how the game has progressed so far, here's a recap of what's been going on over the past few months.
Can I play your MMORPG game now?
Yes, for about a month it has been possible to check what we are working on and thanks to the last few months of intensive work on the game engine, content and game mechanics, you can see what has been created so far. It's a fresh Alpha version of the game that shows the general outline and the concept.
Do I need to create a game account to play?
No. Herodonia is a game where you don't need to create an account to play it. In this browser game, just click the "play" button to start playing immediately without creating an account. However, in order to save game progress, achievements and items such as food, minerals or weapons, you need to create an account.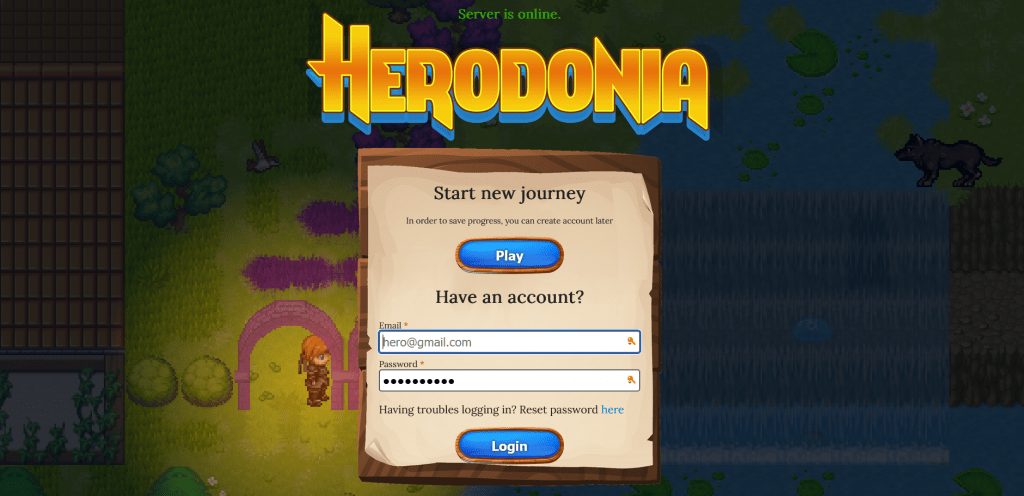 In this simple way, all your progress in the game will be saved and you will start from where you left off the next time you log in.
Do I need to download the game to my computer to play it?
You don't need to download anything to your computer to play Herodonia. This is a free mmorpg browser game that runs entirely in your browser.
This browser based rpg is available to play on both: mobile and PC (on any browser).
Does Herodonia work on mobile?
You can play Herodonia on any device, both on a computer and on a phone. The content will fit the size of the screen to provide the best gaming experience. We designed our game to be a mobile mmorpg without autoplay and without any pay-to-win strategies.
What does an Alpha version of a game mean?
This is one of the first versions of the game, so please understand and be patient as we are developing it ourselves, with limited time and budget. Bugs, shortcomings or certain bugs may still be present in the game. The game is unfinished and at this stage its main task is to present the general idea of the developers.
Bear in mind that this means the possibility of losing progress and resetting the account and the need to re-create it.
If you encounter a problem or a bug in the game, we will be grateful for a message – any feedback will be greatly appreciated.
What activities can you currently do in the game?
After completing the tutorial, we invite you to the threshold of a beautiful village that you can explore and discover its new parts. You will meet its first inhabitants, NPCs and monsters waiting for you in every corner of the map.
Go to the beach in search of ambers, get the raw materials and ingredients necessary to create the first armors and dishes with special properties. Learn the remains of stories about the history of a village that was once affected by a devastating war.
Meet the creatures of the village and compete against them in the fight for great prizes. Buy and sell goods by exchanging them for needed materials and items.
Collect daily rewards and use the bonuses they give.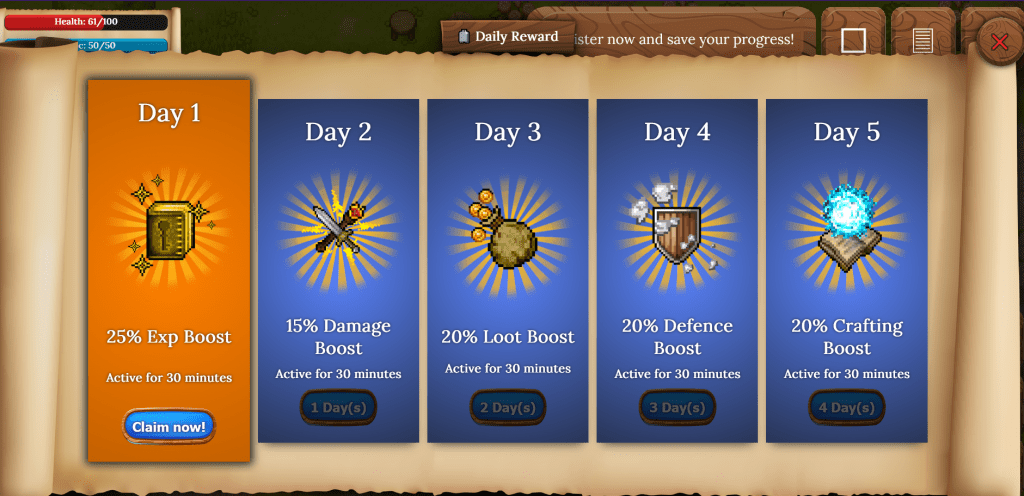 What activities are planned next?
Next, we want our game to be able to use fast travel in the form of teleports, which will make it easier to move between parts of the map. In addition, extensive food crafting and obtaining recipes for dishes are planned. Also, as we concentrate on content there will be more quests from the villagers and their stories will be further developed.
Next, we plan to add fishing.
At the same time, we plan to add content and interesting quests to complete as long as balance the whole game.
We will try to keep you updated on further changes as soon as there are any major ones.